1999 Woodstock News Updated Friday 8/6/1999

New York State Police Photo

Woodstock 1999 Photo Gallery Updated Monday @ 10:17am 7/26/1999

Contact Me: drewauman [AT] outlook [DOT] com - Relive a memory or say HEY ... drop us a line ... Email Address updated February 2016



Here is an interesting opinion that was taken from our forums. Let us know your opinion.

The way it should've been
Message from the webmaster: As the moderator of this website, I have grown tired of the riot photos and stories all over the web. Every time I came to this homepage I saw the riot photo on the homepage and it was leaving a bad taste in my mouth about my whole Woodstock experience. I have decided to change the photo and put up a rare story that I found that represents the way Woodstock should've been remembered. Hope you feel the same. Peace.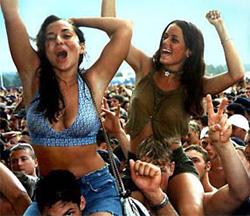 2 women having a good time During the Rusted Root concert at Woodstock 1999 (Photo / Chris Auman - Ohio.com)
Woodstock '99 Winding Down
By JOHN KEKIS Associated Press Writer
ROME, N.Y. (AP) - Hot, sunburned and exhausted, Woodstock '99 concertgoers faced the ultimate rock 'n' roll letdown Sunday - the end of the three-day festival and the long ride home.
``We all have got to work in the morning,'' said Mara Kugler of Baldwin, N.Y., a sleeping bag tucked under her arm. ``It's been a long week, but worth it.''
Many campers were already pulling up stakes and stashing gear in their cars Sunday morning in hopes of making a quick getaway once their favorite band finished up, but it didn't look promising. State police said that by late afternoon more than 70,000 people had departed with few delays. The exodus was expected to take up to a day since more than 225,000 packed the site.
``It's like, you know, what your image of hell would be,'' said Diana Perchekly, who faced a five-hour drive back to her Long Island home. ``This is it.''
If the site indeed was hell for some - the 3,000-acre former Air Force base was littered with flattened fast-food containers, beer cans, paper and plastic cups and myriad pizza boxes - it remained heaven for others.
Slightly over 100 people decided early Sunday that stripping was better than grabbing an extra hour or two of sleep and turned out for a massive nude photo shoot as a brilliant orange sun began to light up the sky. Flyers announcing the escapade were circulated over the weekend by photographer Spencer Tunick, who is well known for his photos of nudes in public places.
``I just want to see the expressions that the photos could bring for decades to come,'' said Sarah Warner of Allston, Mass. ``Picture your kid going, 'Grandma, was that you? You were hot!'''
King Rex and Queen Cassie, two nudists from Massachusetts, arrived at the site ready for the job. King Rex, 45, wore a Panama hat, sneakers and Mardi Gras beads. Queen Cassie had a lei around her neck and sandals on her feet, and that was it.
``We've been nude all weekend. We drove here nude, most of the way,'' Rex said. ``This is a natural state for us. I'm glad to see that people aren't so hung up that they can't join us.''
``The first day, as we were putting up our tents, we could hear the giggles,'' said Queen Cassie, 50. ``People were peeking out from behind their tents to take pictures. They seemed shocked. After three days, they don't even give us a second look. In fact, half of them are naked now.''
The festival wasn't all peace and love. Things turned somewhat ugly in the mosh pit Saturday night while Limp Bizkit was playing. A mob of more than 200 threw bottles, smashed a barricade and nearly trampled sound system components. One woman suffered a serious head cut from a thrown bottle.
Away from the two mammoth stages, a man carrying $16,000 in cash was arrested Saturday in the campground for selling mushrooms, state trooper Jim Simpson said. The arrest was one of 31 made at the festival, troopers said.